Northwest Horticultural Council
Export Manual
JORDAN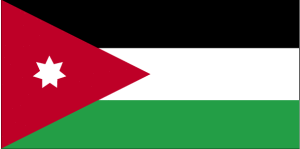 Capital: Amman
Population: 10,998,531 (July 2022 est.)
Currency: Jordanian dinar
Official Language(s): Arabic
---
Please click on the above link for a list of chemical MRLs.
II. CHEMICALS AND ADDITIVE INFORMATION
A. Chemical residue standards:
Jordan's standards are set on the basis of Codex Alimentarius Commission standards.
B. Monitoring chemical residues:
Jordan monitors imported fresh produce for chemical residues.  The frequency of testing is not known but risk-based depending on the source of product.  Jordan government officials have the authority to inspect food products at the retail and distribution levels and collect samples for testing.  If a product fails to meet requirements, it can be removed from distribution and destroyed.
C. Restrictions on use of waxes:
Jordan defers to Codex Alimentarius Commission standards on food additives, including wax.
III. ORGANIC FRUIT REGULATIONS
There are no organic fruit regulations in effect at this time.
IV. TARIFFS
Apples 0%
Pears 0%
Cherries 0%
Tariffs were eliminated under the U.S.-Jordan Free Trade Agreement.
V. NON-TARIFF BARRIERS
A. Labeling requirements:
The following information must be on each carton and stated in Arabic:
Product name (apples)
Name, address, trademark of exporter
Variety
Country of origin and place of production
Commercial specification (grade, size, etc.)
B. Licenses and quotas:
None
C. Currency Issues:
None
D. Pest and plant disease restrictions:
A phytosanitary certificate (PC) and Import Permit (IP) are required.  Shippers should review any import permits and present the IP prior to the phytosanitary inspection.  Recent IP's for pears and apples received from Jordan have required a certified cold treatment for tropical fruit flies, San Jose scale, fall web worm, Oriental fruit moth and three separate species of Pseudomonas.  A cold treatment of 1.0o C ± 0.5o C for 40 days is required and must be noted on the PC.  If cold treatment is not certified on the PC, cold treatment may be completed upon arrival.
It is recommended that shippers work with their import partners in Jordan to obtain product quality expectations.  See August 16, 2020 GAIN Report here.
E.  Solid Wood Packing Material (SWPM) Regulations:
Jordan requires that SWPM meet International Standards for Phytosanitary Measures (ISPM 15).
F.  Other requirements:
A notarized certificate of origin issued by a relevant authority, usually a Chamber of Commerce, in the exporter's local area is required.
VI. OTHER RESOURCE LINKS:
Governmental:
VII. ADDITIONAL COMMENTS
The U.S.-Jordan FTA was signed on October 24, 2000, and entered into effect in December of 2000.  Additional information on this FTA may be found at U.S.-Jordan FTA.
Special thanks to


FAS Field Office