Northwest Horticultural Council
Export Manual
KOREA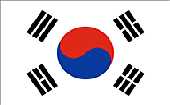 Capital: Seoul
Population: 51,835,000
Currency: Won
Official Language(s): Korean
---
Please click on the above link for a list of chemical MRLs.
Cherry MRLs in Top Markets – updated  March 12, 2020
II. CHEMICALS AND ADDITIVE INFORMATION
A. Chemical residue standards:
On January 1, 2019, Korea implemented a positive MRL list for all commodities. Korea will no longer defer to Codex or the previous system for determining a MRL for a particular pesticide on a specific commodity. Only national Korean MRLs will be accepted. For chemicals without an established MRL, a 0.01 ppm default will apply.
In order to ensure a smooth transition to the positive MRL list, the Korean government has agreed to establish temporary MRLs for several chemicals that will expire on December 31, 2021. This additional time is to allow for chemical registrants to submit import tolerance data and the Korean government to complete its review to determine if a MRL can be established.
The NHC is working to ensure all Korean MRLs that are important to the tree fruit industry are maintained, so shipments to Korea will not be interrupted. However, there are some chemicals where a temporary MRL has been established but the chemical companies have indicated they do not intend to submit an import tolerance request. It may be possible for a third party to submit an import tolerance request. Please contact the NHC if you have concerns that a chemical on the Korean MRL list set to expire in 2021 is not going to be maintained.
B. Monitoring chemical residues:
Korea actively monitors chemical residues in imported fruits.
During the 2020 cherry season, the initial shipment of cherries from each packing house to South Korea will be held and tested for pesticide residues.  This is a result of the Ministry of Food and Drug Safety (MFDS) policy established in 2016 to require mandatory testing (for 58 compounds).  In 2020, the MFDS sent "Proposed Amendments to Border Inspection Regulation for Foods" to the World Trade Organization, containing an adjustment on the types of pesticides for simultaneous residue analysis for agricultural commodities when they are imported for the first time. This notice increased the number of agricultural chemicals to be tested for first shipments from 58 different chemicals to 65 chemicals. Click here for list of 65 chemicals that will be tested in first shipment of agricultural commodities to the market.
Additionally, any commodity is subject to random testing for 370 compounds. Samples are taken by the computer system based upon a past record, and volume. The list of 370 compounds can be found here.
In addition to the random multi-residue test, each quarter an additional 10 to 12 chemicals not covered by the multi-residue test are targeted for single-residue testing on selected produce. Single residue tests are solely conducted by the Ministry of Food and Drug Safety (MFDS), and neither the chemicals nor the specific produce selected for testing are publicly disclosed. Therefore, it is unknown whether or when cherries are subject to single residue testing.
Fruit can be moved to customers' cold storage facilities while awaiting testing results. While most loads clear customs the day submitted, USDA's Foreign Agricultural Service (FAS) personnel in Seoul indicate that loads submitted for customs clearance later in the week may not clear customs in time for weekend promotions if randomly chosen for pesticide residue testing.
The NHC has expressed the views that MFDS's overall MRL testing policy is unnecessarily complex and that the agency's test-and-hold procedure represents a punitive action resulting in market disruption and potential fruit quality loss when fruit is held without any evidence that residue violations are likely. The NHC has urged USDA-FAS to work with MFDS and seek a modification of this program that either exempts Pacific Northwest fruit because of our positive track record or limits the program to sample-and-release testing until violations are noted in the commodity.
C. Restrictions on use of waxes:
Korea allows the use of five different types of wax as food additives: beeswax, petroleum wax, carnauba wax, rice bran wax and candelilla wax. These five waxes do not have a tolerance level (MRL) set. Food additives which are listed in the Korean Food Additive Code but do not have a MRL set, should be used following good manufacturing practices.
III. ORGANIC FRUIT REGULATIONS
Imported produce to be labeled in Korean as organic must receive certification from an official agency recognized by the National Agricultural Products Quality Management Service (NAQS) of the Ministry of Agriculture, Food and Rural Affairs (MAFRA). NAQS has officially designated 31 Korean certification agencies. No foreign entities have been designated. Produce certified as organic by U.S. entities still needs to be certified by NAQS approved agencies in order to carry a Korean language organic label. A foreign language organic label (such as the USDA organic logo) is permitted as long as "organic" is not included in the Korean language label.
IV. TARIFFS
The current applied tariff rates are as follows:
| | |
| --- | --- |
| Apples (other than Fuji) | 4.5% |
| Apples, Fuji | 24.75% |
| Pears | 4.5% |
| Cherries | 0% |
In order for importers to obtain duty-free status for cherries, they may require a certificate of origin.  For more information, see Section F. below.
Under the terms of the U.S.-Korea Free Trade Agreement that entered into effect on March 15, 2012, the tariff on all apple varieties except Fuji apples and the tariff rate on European pear varieties will be phased out over ten years.  The tariff on Fuji apples will be eliminated over twenty years.  Apples are also subject to safeguard duty trigger measures.
V. NON-TARIFF BARRIERS
A. Labeling requirements:
All imported food products are required to have Korean language labels.  For agricultural products that are packed in a box or container such as bagged or boxed cherries, Korean language labels should contain the following inscriptions printed in letters large enough to be readily legible:   product name, producer, packing date, contents and other items such as storage condition.  The Korean Customs Service now requires Country of Origin marks on packing containers.
Products on which Korean labels can be omitted:  Agricultural products which are not put in a container and package and are in the natural state are exempted from Korean label requirements.
Korea requires that Country of Origin (COOL) labels be on each apple and pear.  The COOL indication may be an edible ink stamp or a sticker.  Cherries are exempt from this requirement.
Korea does not allow "non-GMO," "GMO-free," or similar labels for any commodity in which there is no GMO equivalent commercially available.  At this time, this rule applies to pears and cherries and may also apply to apples.  Should a container include this label, it must be covered with ink or a sticker in order for the shipment to be cleared.
B. Licenses and quotas:
An importer must be a licensed businessman. Once an importer receives a license to conduct foreign trade business, he is free to import without requiring any further licensing.
C. Currency Issues:
Korean foreign exchange transactions are strictly controlled by the Foreign Exchange Control Law.
D. Pest and plant disease restrictions:
Apples and pears from the United States are not allowed to be imported due to alleged phytosanitary concerns.
Cherries must be fumigated, according to requirements outlined by USDA APHIS, accompanied by a federal phytosanitary certificate and inspected on arrival in Korea.  As of May 12, 2003, entry of all varieties of fresh sweet cherries from specific counties in California, Idaho, Oregon, and Washington is approved.
Cherries are permitted from the following states and counties in the Northwest:  Idaho – Ada, Canyon, Gem, Owyhee, Payette, Twin Falls and Washington; Oregon – Hood River, Umatilla and Wasco; and Washington – Adams, Benton, Chelan, Douglas, Franklin, Grant, Kittitas, Klickitat, Okanogan, Walla Walla and Yakima.  Fumigation requirements may be obtained from state departments of agriculture commodity inspection representatives in each state.
The "issue date" of the phytosanitary certificate must be prior to the "on-board date" listed on the Bill of Lading.
The "inspection date" on the phytosanitary certificate must be prior to the departure date.
To prevent delays at the port of entry, the phytosanitary certificate "issue date" should be prior to the date of departure of the shipment.
E.  Food Safety Requirements:
In early 2016, Korea's Ministry of Food and Drug Safety (MFDS) implemented the Special Act on Safety Management of Imported Food and associated regulations.  Two provisions of importance included in this Special Act are: 1) mandatory pre-registration of foreign food facilities (including fruit packing facilities); and 2) a legal basis for MFDS to suspend import from foreign facilities or establishments that refuse on-site inspection.  The foreign facility registration is valid for two years.
Registration may be done online at: https://impfood.mfds.go.kr
More information on this Special Act, including a sample Foreign Facility Registration application, may be found in this FAS report.
F.  Solid Wood Packing Material (SWPM) Regulations:
Please refer to the SWPM section of the NHC's Technical Bulletins and Industry Advice.
 G.  Certificate of Origin
A Certificate of Origin may be requested by the importer in order to obtain the preferential duty-free tariff provided under the U.S.-Korea Free Trade Agreement.
There is no official Certification of Origin form.  More information may be found at http://export.gov/FTA/korea/eg_main_046633.asp.
VI. MARKETING REPRESENTATIVES FOR PACIFIC NORTHWEST TREE FRUIT INDUSTRY:
Northwest Cherry Growers/Washington State Fruit Commission:
Ken Yang
Korea Business Services
Seoul, Korea
Voice:   011-822-786-7701
Fax:      011-822-786-7704
E-mail:  kyang@kbsinc.co.kr
VII. OTHER RESOURCE LINKS:
Governmental:
VIII. ADDITIONAL COMMENTS
U.S. apple and pear imports are prohibited due to alleged phytosanitary concerns such as codling moth and fire blight. However, the key reason for the exclusion of apple and pear imports is the protection of domestic production.
▬
On June 30, 2007, the U.S. and Republic of Korea signed a free trade agreement.  The Korea-U.S. Free Trade Agreement was further negotiated on December 3, 2010.  President Obama signed the U.S. implementing legislation on October 21, 2011.
The U.S.-Korea trade agreement entered into force on March 15, 2012.
Special thanks to
FAS Field Office – Korea