Northwest Horticultural Council
Export Manual
ARGENTINA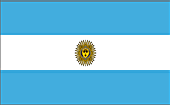 Capital: Buenos Aires
Population: 45,864,941 (July 2021 est.)
Currency: Peso
Official Language(s): Spanish
---
Please click on the above link for a list of chemical MRLs.
II. CHEMICALS AND ADDITIVE INFORMATION
A. Chemical residue standards:
Argentina maintains a national list, deferring to Codex in the absence of an established national MRL.  When there is no established national or Codex MRL, a default MRL of 0.01 ppm is applied,
B. Monitoring chemical residues:
For further information contact:
Corporacion del Mercado Central de Buenos Aires
Aut. Ricchieri y. Boulogne Sur Mer
1771 Tapiales
Pcia. de Buenos Aires, Argentina
Fax:  (5411) 4480-5626
C. Restrictions on use of waxes:
There are no restrictions.
III. ORGANIC FRUIT REGULATIONS
Argentina must recognize U.S. organic standards before organically labeled product may be exported.  Efforts to achieve Argentine recognition of the U.S. organic standard began in August 2001.  To date, no approval has been granted.
IV. TARIFFS
Apples 10%
Pears 10%
Cherries 10%
V. NON-TARIFF BARRIERS
A. Labeling requirements:
The government of Argentina requires fruit packaging to show the following:  species, state, name of packing house, commercial brand, country, date of packing, grade, variety and units per pack or net weight.
B. Licenses and quotas:
An import permit is required.
C. Currency Issues:
None
D. Pest and plant disease restrictions:
Argentine no longer issues import permits for apples and pears from the United States.
Suspension of imports occurred sometime prior to 2009, apparently due to concerns about the transmission of Erwinia amylovora (the bacteria causing fire blight) via apple and pear fruit.  In 2009 USDA/APHIS submitted technical information to Argentine plant health officials documenting that the risk of transmitting the bacteria on mature symptomless apple and pear fruit is very low.  There has not been any response to this letter.  Rather, Argentina has begun a new pest risk assessment on apples, to replace the one conducted in 2005, indicating that this assessment will be used to determine the Import Permit requirements for apples.  A separate assessment for pears will also be generated.
Argentina's actions are designed to prohibit trade, in keeping with its policy to discourage imports of food products.    There have been no reported pest detections in U.S. apple and pear shipments to Argentina, a small niche market with a one or two month shipping season.
The Government of Argentina also prohibits the importation of Pacific Northwest cherries into the country due to concerns over cherry fruit fly and other insect pests.  This trade barrier has been in place since the mid-1990s.
E.  Solid Wood Packaging Material (SWPM) Regulations:
Please refer to the SWPM section of the NHC's Technical Bulletins and Industry Advice.
VI. SUBSIDES:
The Government of Argentina provides export rebates for fresh fruit. Rebates are calculated on the price per metric ton FOB declared by the exporter.
Apples & Pears

Boxes (net weight)

 Rebates

in boxes containing 2.5 kilos or less

6 percent

in boxes containing between 2.5 kilos and 20 kilos

5

percent
VII. OTHER RESOURCE LINKS:
Governmental:
VIII. ADDITIONAL COMMENTS
Special thanks to
FAS Field Office – Argentina