Northwest Horticultural Council
Export Manual
PHILIPPINES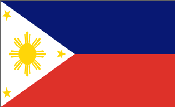 Capital: Manila
Population: 114,597,229 (July 2022 est.)
Currency: Philippine Peso
Official Language(s): Filipino
---
Country Alert: The Philippines Requires a Genetically Modified (GM) declaration for Apples – Posted January 13, 2022
Please click on the above link for a list of chemical MRLs.
II. CHEMICALS AND ADDITIVE INFORMATION
A. Chemical residue standards:
For apples, pears, and cherries, the Philippines follows maximum residue levels established by the Codex Alimentarius Commission. A January 8, 2015, Global Agricultural Information Network report from USDA's Foreign Agricultural Service confirmed that when there is no established Codex MRL, the U.S. MRL is accepted.
The Philippines does not maintain a default MRL.
B. Monitoring chemical residues:
The Bureau of Plant Industry oversees a National Residue Monitoring Program which tests imported fruits for chemical residues.
C. Restrictions on the use of waxes:
None
III. ORGANIC FRUIT REGULATIONS
No rules for organic labeling are currently in effect.
IV. TARIFFS
Apples 7%
Pears 7%
Cherries 7%
V. NON-TARIFF BARRIERS
A. Labeling requirements:
1. Net content
2. Name and address of packer
3. Name and address of importer
4. Country of origin
5. Lot identification
B. Licenses and quotas:
None
C. Currency Issues:
None
D. Pest and plant disease restrictions:
The Philippines' Department of Agriculture has a strict "Must Ship Out by Date" policy.
Fresh fruits must be loaded onboard the ocean vessel on or before 20 days from the date the "SPS Import Clearance (SPSIC)" is issued in the Philippines.  All shipments with expired SPSIC shall be subject to confiscation procedures.
Consult clearly with your importer to ensure compliance.
On November 23, 2016, the Philippine Department of Agriculture began re-validating import permits for agricultural products.  The process is causing confusion and we advise shippers to work closely with importers to avoid delays and disruptions to shipments destined for the Philippines.
U.S. fruit from all states except Texas and Hawaii are permitted access to the Philippines subject to plant quarantine inspection. An import permit and federal phytosanitary certificate are required. The phytosanitary certificate must contain the following additional declaration: "Philippine Plant Protection Service import permit number (????) was presented."
All containers must be shipped under either packing house or shipping line seals. The ocean freight container number(s) and corresponding seal number(s) must be listed on the phytosanitary certificate under "Distinguishing Marks." Shippers should note that the container number(s) and corresponding seal number(s) must appear on the shipping documents, including the Inward Cargo Manifest and Bill of Lading.
Exporters are advised that breakage of container seals prior to arrival and verification by Philippine plant Quarantine officials could subject the shipment to reexportation or destruction with all expenses borne by the exporter/importer.
E.  Solid Wood Packing Material (SWPM) Regulations:
Please refer to the SWPM section of the NHC's Technical Bulletins and Industry Advice.
F.  Other Requirements:
GM Declaration: The Philippines requires a GM declaration for imported apples. Under this requirement, importers complete and sign a declaration for shipments after arrival stating whether a shipment contains a GM ingredient. Shippers are advised to communicate with their customers regarding this requirement.
VI. MARKETING REPRESENTATIVES FOR PACIFIC NORTHWEST TREE FRUIT INDUSTRY:
Pear Bureau Northwest:
Richard Lieu
Lieu Marketing Assoc Pte Ltd
SINGAPORE
Voice:   011-65-6515 6113
Fax:      011-65-6278-4372
E-mail:  lieumktg@singnet.com.sg
VII. OTHER RESOURCE LINKS:
Governmental:
VIII. ADDITIONAL COMMENTS
Special thanks to
FAS Field Office – Philippines