Northwest Horticultural Council
Export Manual
VIETNAM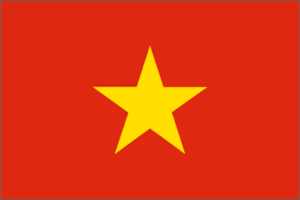 Capital: Hanoi
Population: 104,799,174 (July 2023 est.)
Currency: Dong
Official Language(s): Vietnamese
---
Please click on the above link for a list of chemical MRLs.
II. CHEMICALS AND ADDITIVE INFORMATION
A. Chemical residue standards:
Vietnam maintains a national MRL list.  Vietnam does not have a default MRL policy.
B. Monitoring chemical residues:
Vietnam does not aggressively monitor residues on imported fruit.  However, some monitoring of imported fruits is undertaken at border points with China.  The Ministry of Health plans to begin inspecting certain processed foods, including canned fruits and vegetables.
C. Restrictions on use of waxes:
None
III. ORGANIC FRUIT REGULATIONS
There are no existing certification standards for organic food in Vietnam.
IV. TARIFFS
Apples:      8%
Pears:        10%
Cherries:  10%
V. NON-TARIFF BARRIERS
A. Labeling requirements:
As a result of new plant product food safety inspection requirements, enacted by Vietnam in July 2011, labels on shipping cartons must now be in Vietnamese.  The exact requirements remain unknown but have been translated as "Goods imported into Vietnam must be packed, labeled, including information on name of goods, name and address of Food Business Operators; ID code (if any) and other information (in Vietnamese or with additional labels in Vietnamese) as prescribed."
Shippers are advised to work closely with their importers to ensure compliance.
B. Seasonal restrictions:
None
C. Certificate of Origin:
A Certificate of Origin (C/O) is required and must be issued by a government agency such as the Chamber of Commerce.  If the C/O is issued by the manufacturer, it must be certified by the agency.  Only circular stamps are considered official.  Customs officials have refused to accept U.S. Certificates of Origin without raised seals or circular stamps.
The Certificate of Origin must contain the following:
1.  An issuance number.
2.  Name and address of exporter, the exporter country.
3.  Name and address of importer, the importing country.
4.  Information on transportation of the goods.
5.  The trademark and label; quantity and type of pack; description of goods.
6.  Weight of shipment.
7.  Origin of goods.
8.  Enterprise requesting the C/O (name, date of request for issuance).
9.  The C/O issuing organization (name, date of issuance and its stamp).
D. Currency Issues:
None
E. Pest and plant disease restrictions:
A federal phytosanitary certificate and import permit are required for apple, pear, and cherry shipments.
Fruit infested with Quadraspidiotus perniciosus (San Jose Scale) is prohibited from entering Vietnam.
VI.  MARKETING REPRESENTATIVES FOR PACIFIC NORTHWEST TREE FRUIT INDUSTRY
Washington Apple Commission and Pear Bureau Northwest:
Francis Lee
Ho Chi Minh City, VIETNAM
Voice:  011-848-5 4136 550
Fax:     011-848-5 4136 549
E-mail:  francis_lee50@hotmail.com
VII.  OTHER RESOURCE LINKS:
Governmental:
Private:
VII.  OTHER COMMENTS
Vietnam became the 150th World Trade Organization member on January 11, 2007.
On December 20, 2006, President Bush signed legislation granting permanent normal trade relations (PNTR) for Vietnam.  This legislation allows U.S. companies to receive the full benefit of Vietnam's WTO membership, including significant tariff rate reductions on apples, pears, and cherries.