Northwest Horticultural Council
Export Manual
NEW ZEALAND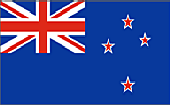 Capital: Wellington
Population: 5,109,702 (July 2023 est.)
Currency: New Zealand dollar
Official Language(s): English, Maori
---
Please click on the above link for a list of chemical MRLs.
II. CHEMICALS AND ADDITIVE INFORMATION
A. Chemical residue standards:
New Zealand Food Safety Authority (NZFSA) sets and enforces maximum residue level standards, called the MRL standard.  All imported and domestically produced food must comply with these standards, except food from Australia of which New Zealand and Australia have formed a separate agreement.  Codex MRLs are used to supplement the national list.  For imported foods, the less restrictive MRL will be accepted.  New Zealand has a default MRL of 0.1 ppm.
B. Monitoring chemical residues:
Fruit is tested for chemical residues. Market basket surveys include domestic and imported fruit.
C. Restrictions on use of waxes:
There is a restriction on waxes. 3,000 ppm bland wax coatings of mineral and vegetable origin on apples, citrus, cucumbers, and potatoes.
III. ORGANIC FRUIT REGULATIONS
New Zealand does not have an official standard for organic food products. New Zealand allows product certified under USDA's National Organic Program to be imported and sold in the country as organic.  Further information on exporting organic products to New Zealand can be found here.
IV. TARIFFS
Apples, pears, and cherries are allowed entry into New Zealand duty-free.
V. NON-TARIFF BARRIERS
A. Labeling requirements:
Fresh fruit imports are required to be labeled with the country of origin, the importer and exporter, and a code that relates to the individual shipment, i.e., lot identification, and date packed. Nutritional labeling is not required for fresh fruits. However, if such a label is provided it must conform to New Zealand's law as the U.S. style nutrition panel is not acceptable for the New Zealand market. For more information on labeling requirements, visit the Australian New Zealand Food Standards Code website.
B. Licenses and quotas:
None
C. Currency Issues:
None
D. Pest and plant disease restrictions:
Apples: Phytosanitary certificate (PC) is required. Apples are only approved from California and Washington.  For more information, contact your local state department of agriculture commodity inspection representative.
Pears: A PC is required. Additional declarations (AD) vary by state and can be found in the USDA Animal and Plant Health Service Phytosanitary Export Database (PExD).  All Northwest producers should be able to meet these requirements. Asian pear fruit is prohibited for export to New Zealand.
Cherries: Sweet cherries exported to New Zealand must be fumigated with methyl bromide for the possible presence of cherry fruit fly (Rhagoletis spp.), apple maggot (Rhagoletis pomonella), and spotted wing drosophila (Drosophila suzukii) larvae.  The fumigation schedule required matches that used for Japan, Korea, and Australia.  For more information, contact your local state department of agriculture commodity inspection representative.
E.  Solid Wood Packing Material (SWPM) Regulations:
Please refer to the SWPM section of the NHC's Technical Bulletins and Industry Advice.
F.  Other Barriers:
Import Health Standard for Sea and Air Containers:
Both sea and air containers must meet New Zealand's import health standards, which basically guarantee a minimum standard of cleanliness.
All imported sea cargo containers must have documentation listing:  container number, the origin where the container will be filled, the port at which the container was first loaded on board a vessel for shipment to New Zealand, exporter, importer, a complete description of contents, a quarantine declaration and treatment certification, if applicable.
For detailed information on Import Health Standards for Sea and Air Containers, visit the following websites:
1.  Import Health Standard for Sea Containers
2.  Import Health Standard for Air Containers
VI. MARKETING REPRESENTATIVES FOR PACIFIC NORTHWEST TREE FRUIT INDUSTRY:
Northwest Cherry Growers/Washington State Fruit Commission:
John Baker
Produce Marketing Australia
Voice:  011-612-9642-1555
Fax:     011-612-9642-1544
E-mail:  john@producemarketing.com.au
Pear Bureau Northwest
Lisa Cork
The Marketing Department
Auckland, New Zealand
Voice:  011 64 9815-5944
Fax:      011 64 9815-5044
E-mail:  lisa@freshproducemarketing.com
VII. OTHER RESOURCE LINKS:
Governmental:
U.S.
New Zealand
VIII. ADDITIONAL COMMENTS
Special thanks to
FAS Field Office – New Zealand