Northwest Horticultural Council
Export Manual
THAILAND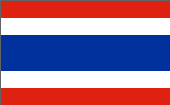 Capital: Bangkok
Population: 69,794,997 (July 2023 est.)
Currency: Baht
Official Language(s): Thai
---
Please click on the above link for a list of chemical MRLs.
II. CHEMICALS AND ADDITIVE INFORMATION
A. Chemical residue standards:
Thailand maintains a national MRL list, applying a default of 0.01 ppm where no MRL is established.
As of June 2, 2021, Thailand banned chlorpyrifos residues on imported food, setting the MRL at the level of detection, 0.01 ppm.
B. Monitoring chemical residues:
Thai FDA officials conduct regular screening of incoming fresh fruit shipments for pesticide residues.  Imported produce is categorized by TFDA's perceived risk levels into three classifications: Very High Risk, High Risk, and Low Risk.
TFDA categorizes cherries as High Risk with a focus on residues of fenpropathrin (Danitol 2.4EC) due to prior non-compliance findings.
If the shipment is found to be noncompliant for pesticide residues, the Thai FDA will place the exporter's name on a "Very High Risk" list.  You can access the "List of Imported Vegetables and Fruits that Failed to Meet the Quality Standards Testing Fiscal Year 2020" on the Thai FDA's website to identify exporters listed in the "Very High Risk" here.
Exporters whose names are on the "Very High Risk" list will have cherry shipments held and tested by the TFDA, using a default value of 0.01 ppm for fenpropathrin, chlorpyrifos, and glyphosate.
If an importer does not want the shipment to be tested in Thailand, the importer can present a Certificate of Analysis (COA) issued by a government laboratory of the exporting country, a government-assigned lab, or a private laboratory complying with ISO/IEC 17025 can be used.
To learn more about Thailand's pesticide residue monitoring procedures, see the U.S. Department of Agriculture (USDA) Foreign Agriculture Service (FAS) GAIN report here.
Apples and pears are classified as Low Risk.
C. Restrictions on use of waxes:
None
III. ORGANIC FRUIT REGULATIONS
No information
IV. TARIFFS
Apples:     10% ad valorem
Pears:        30% ad valorem
Cherries:  40% ad valorem
As a result of the ASEAN-China Free Trade Area, Thailand and China have reduced their respective import duties on fresh fruits and vegetables to zero.
Thailand and Australia negotiated a free trade agreement (FTA) in October 2003.  Under this FTA, Thailand provided Australian apples and pears duty-free access.
V. NON-TARIFF BARRIERS
A. Labeling requirements:
The following information must appear in English on the packed carton of fruit:
Product or produce of the state or country of origin
Name of fruit (common name)
Name of packinghouse/shipper
Production unit code (PUC)/grower lot number
"EXPORT TO THAILAND" must appear on each carton that is exported loose.  Placards that state "EXPORT TO THAILAND" may be used if the shipment is palletized and must appear on all four sides of the pallet.
Food Safety labeling requirements (sticker)*:
Work with your importer for the following information and format that must be stickered on each carton.  The information must appear in Thai and may also appear in English.
Importer name and address shall be displayed with the text "Importer" or "Imported by".
Name of the country of origin.
Registration number of the importer premise. Display this number in no less than 2mm in height located in a rectangle or square frames.  The font must contrast with the background color.
Any coding or symbol that indicates the production batch or lot.
* To view the Thai Ministry of Health notification, see the link in Section E. for the Thai Ministerial Notification No. 386 B.D. 2560 (2017).
B. Licenses and quotas:
None
C. Currency Issues:
None
D. Pest and plant disease restrictions:
An import permit and phytosanitary certificate are required for apples, pears, and cherries.  The phytosanitary certificate number must appear on the shipping documents.
Packed cartons of fruit must be free from plant materials, e.g., leaves, plant debris, etc.
Carton marks, including "EXPORT TO THAILAND" marks or placard, are required.  (See section A "Labeling Requirements" above.)
Ocean shipping containers must be sealed.  The seal number must be endorsed on the phytosanitary certificate or shipping documents.
Contact the Northwest Horticultural Council office for a copy of the export protocol.
E.  Other Requirements:
The Thailand Food and Drug Administration (TFDA) had implemented food safety regulations for production processes, production equipment, storage, and labeling.  The following U.S. packinghouse standards were confirmed by TFDA November 11, 2019, to comply with the Thai Ministerial Notification No. 386 B.E. 2560 (2017):
USDA Agricultural Practices and Good Handling Practices Audit Verification Program for Fruit and Vegetables;
GlobalG.A.P.'s Integrated Farm Assurance Program for Fruits and Vegetables;
The Safe Quality Food (SQF) Institute's HACCP-Based Supplier Assurance Code for Food Industry;
BRC Global Standards for Food Safety (Issue 7);
Primus FGS Version 2.1-2c or Version 3
The five standard certifications above are in addition to those listed in the original notification: GMP, HACCP, ISO 2000, International Food Standards (IFS), Primus GFS Standard, and GlobalG.A.P.A valid food safety certificate must be shown at the TFDA checkpoint.  TFDA prefers an original certificate but will accept a copy that is verified by a Notary Public or U.S. State Department entities, e.g. U.S. Embassy.
The certificate will be returned to the importer and may be used for subsequent shipments until the certificate is invalid.
Shipments made using a trading house/broker invoice should document the name of the certified packer on the invoice or packing list. For additional information, contact the Northwest Horticultural Council at (509) 453-3193.
For more information regarding food safety labeling requirements see Section A "Labeling Requirements" above.
Notification of the Ministry of Public Health (No. 295) B.E. 2548 (2005)
Re: Qualities or standards for a container made from plastic
Plastics in the form of sheets or bags which are used as food containers must not be made from used plastic and must not have coloring except for: a) laminated plastic, only the layer that's not in direct contact with the food; and b) plastic which is used for packing shelled fruits, e.g. oranges.
This notification was enacted in 2006 and the Foreign Agricultural Service has "not seen any issues arise because of it."  Any colored label on a plastic container, e.g. bag, must only occur on the outside of the container.  The label must be on the outside of the container only so that it does not come into contact with the fruit.
VI. MARKETING REPRESENTATIVES FOR PACIFIC NORTHWEST TREE FRUIT INDUSTRY:
Washington Apple Commission:
Theeravee Ungkuvorakul
Success Marketing Co., Ltd.
Bangkok, THAILAND
Voice:  011-662-656-7921
Fax:     011-662-656-7931
E-mail:  theeravee@successmarketing.co.th
Northwest Cherry Growers/Washington State Fruit Commission:
Phornthip Poolprasert
PT & Tatch Ltd.
Bangkok, THAILAND
Voice:  011-66-2-521-2170/970-7572
Fax:     011-66-2-970-8208
E-mail:  pt@tatch.in.th
VII. OTHER RESOURCE LINKS:
Governmental:
VIII. ADDITIONAL COMMENTS
Special thanks to
FAS Field Office – Thailand