Northwest Horticultural Council
Export Manual
GUATEMALA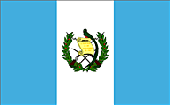 Capital: Guatemala City
Population: 17,703,190 (July 2022 est.)
Currency: Quetzal
Official Language(s): Spanish
---
Please click on the above link for a list of Codex chemical MRLs.
II. CHEMICALS AND ADDITIVE INFORMATION
A. Chemical residue standards:
Guatemala defers to maximum residue levels established by the Codex Alimentarius Commission and considers U.S. Environmental Protection Agency standards when establishing maximum residue levels.
B. Monitoring chemical residues:
C. Restrictions on use of waxes:
There are no restrictions on the use of waxes.
III. ORGANIC FRUIT REGULATIONS
No information.
IV. TARIFFS
As agreed under the Dominican Republic-Central America-United States Free Trade Agreement, the tariff rate for U.S. apples, pears and cherries is zero.
In order for importers to obtain this preferential duty-free rate, a Certificate of Origin must be provided.  See section Chapter V, Section F for more information.
V. NON-TARIFF BARRIERS
A. Labeling requirements:
B. Licenses and quotas:
Import licenses must be obtained at the Ministry of Agriculture.
C. Currency Issues:
None
D. Pest and plant disease restrictions:
A Phytosanitary Certificate (PC) is required.
The PC must contain the following under "Additional Declarations":
Apples – the PC must declare the shipment free of Pseudococcus calceolariae, Pseudococcus comstocki, Lepidosaphes ulmi, Aphis pomi, Grapholita prunivora, and Neonectria galligena
Pears – the PC must declare the shipment free of Cydia pomonella, Hoplocampa Hartig, and Pseudococcus calceolariae
Cherries – the PC must declare the shipment free of Rhagoletis indifferens
In the past, Guatemala had different phytosanitary requirements for each state, but in July 2018 requirements were made the same for U.S. agricultural products regardless of the state of origin.
E. Solid Wood Packaging Material (SWPM) Regulations:
Please refer to the SWPM section of the NHC's Technical Bulletins and Industry Advice.
F.  Certificate of Origin:
A Certificate of Origin must accompany any shipment in order to obtain the preferential duty-free tariff provided under the DR- CAFTA.
There is no official Certification of Origin form.  However, a "suggested form" for imports under DR-CAFTA, including instructions on how to fill in the form may be found at Certificate of Origin.
Special attention should be paid to entering the correct "preferential tariff treatment criteria" under box 7 of the suggested form.  For fruit exported from the Pacific Northwest, the correct entry is the capital letter A; which designates the import as "it is a good wholly obtained or produced entirely in the territory of one or more of the Parties."
G. Certificate of Attestation:
Based on a negotiated understanding with USDA/FAS, in lieu of providing a food safety certificate and/or proving laboratory test results, Guatemala has agreed to allow shippers to provide a Certificate of Attestation verifying that the shipment complies with food safety regulations within the U.S.    The Certificate of Attestation may be issued by the exporter (producer, packer, or distributor).  In box 1.5 of the certificate a sanitary license number is required, this may be the registration number the packing house has with any state or federal authority (e.g., the registration number assigned by FDA under the Bioterrorism Act, the USDA Positive Lot Identification (PLI) number or, in Washington, the packer's WSDA state lot identification number).  The Certificate of Attestation must accompany shipments as of November 1, 2011.
VI. MARKETING REPRESENTATIVES FOR PACIFIC NORTHWEST TREE FRUIT INDUSTRY:
VII. OTHER RESOURCE LINKS:
Governmental:
VIII. ADDITIONAL COMMENTS
The Dominican Republic-Central America-United States Free Trade Agreement Implementation Act was signed by President Bush on August 2, 2005.  This FTA entered into force in Guatemala on July 1, 2006.
Special thanks to
FAS Field Office – Guatemala