Northwest Horticultural Council
Export Manual
SINGAPORE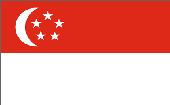 Capital: Singapore City
Population: 5,975,383 (July 2023 est.)
Currency: Singapore Dollar
Official Language(s): English, Malay, Mandarin, Tamil
---
Please click on the above link for a list of chemical MRLs.
II. CHEMICALS AND ADDITIVE INFORMATION
A. Chemical residue standards:
Singapore has its own standards. If a chemical does not have an established maximum residue level, Singapore will accept Codex.
B. Monitoring chemical residues:
Chemicals residues are monitored. Singapore checks fruits and vegetables on a random basis. The frequency of checks is determined by the violation history of the country concerned.
C. Restrictions on use of waxes:
None
III. ORGANIC FRUIT REGULATIONS
There are no existing certification standards for organic food in Singapore.
IV. TARIFFS
There are no import duties imposed on apples, pears or cherries. However, a Goods and Services Tax (GST) of 7% of the CIF is charged.
V. NON-TARIFF BARRIERS
A. Labeling requirements:
The following information must be printed on the cartons:
Name and address of packer
Product description
Date of packing
B. Licenses and quotas:
None
C. Currency Issues:
None
D. Pest and plant disease restrictions:
None
E. Other trade restrictions:
None.
VI. MARKETING REPRESENTATIVES FOR PACIFIC NORTHWEST TREE FRUIT INDUSTRY:
Washington Apple Commission:
Eddie Saw
Total Market Solutions
Selangor Darul Ehsan, Malaysia
Voice:    011 603 8070 7216
Fax:       011 603 8076 3825
E-mail:  eddie.saw@totalms.com.my
Northwest Cherry Growers/Washington State Fruit Commission:
Phornthip Poolprasert
PT & Tatch Ltd.
Bangkok, Thailand
Voice:    011 66-2-970-8207
Fax:       011-66-2-970-8208
E-mail:   pt@tatch.in.th
Pear Bureau Northwest:
Richard Lieu
Lieu Marketing Assoc Pte Ltd
SINGAPORE
Voice:   011-65-6515 6113
Fax:      011-65-6278 4372
E-mail:  lieumktg@singnet.com.sg
VII. OTHER RESOURCE LINKS:
Governmental:
VIII. ADDITIONAL COMMENTS
Congress ratified the U.S.-Singapore Free Trade Agreement (FTA) on July 31, 2003, and President Bush signed the legislation into law on September 3, 2003. The FTA entered into force January 1, 2004.
Special thanks to
FAS Field Office – Singapore