Northwest Horticultural Council
Export Manual
FRANCE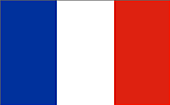 Capital: Paris
Population: 68,305,148 (July 2022 est.)
Currency: Euro
Official Language(s): French
Member of the European Union
---
Please click on the above link for a list of chemical MRLs.
II. CHEMICALS AND ADDITIVE INFORMATION
A. Chemical residue standards:
As a member of the European Union (EU), France applies maximum residue levels (MRLs) as established by the EU as well as setting its own standards for chemicals not regulated by the EU.
Dimethoate: Cherries that meet the EU MRL for dimethoate of 0.01 ppm, may be exported to France. A ban on cherries imported from countries that allowed the use of dimethoate that had been in place since 2016, expired in April 2021.
B. Monitoring chemical residues:
France actively monitors chemical residues on imported fruit. No pesticide residue is allowed on or in fruit unless the chemical is authorized for agricultural use.
C. Restrictions on use of waxes:
The EU permits the use of white beeswax, yellow beeswax, candelilla wax, carnauba wax and shellac wax on apples and pears (EC Directive 95/2/EC).
Morpholine is not allowed to be present as an additive to waxes or other food coatings.  There is active enforcement of this prohibition.
III. ORGANIC FRUIT REGULATIONS
All producers and importers must comply with European Commission regulations regarding the production, labeling, certification, and control of organic foods.  France does not allow organic fruit imports from non-EU countries unless authorized by the French Ministry of Agriculture.
Labeling of Organic Product:  Unprocessed organic plant products can mention "organic production" as the farming method and may display EU Member state allowed terms.  Products that are transitioning to organic may not use "organic farming" in their trade name but may state "product under conversion to organic farming."  Packaging must be labeled with:
Name and Address of the producer, processor or importer
Name of the product
Organic Product
Batch Identification code
Country of Origin
Size and Grade information
Distribution:  Organic foodstuffs must be transported in sealed containers or packaging to guard against content substitution in transit.
The "AB" logo is a French logo identifying organically grown product.
Please refer to the Organic Fruit Regulations section of the European Union page of this manual for more information.
IV. TARIFFS
As a member of the European Union (EU), France imposes the EU's tariff schedule and entry price system on apple, pear and cherry imports. Please refer to the EU chapter for additional information.
V. NON-TARIFF BARRIERS
A. Labeling requirements:
European Union (EU) labeling requirements apply. Please refer to the EU chapter for additional information. Labels should be in French.
Postharvest labeling: French law requires labeling, at the wholesale and retail level, of fresh fruits exposed to postharvest chemicals.
Labels must indicate when applicable:
– "Conserve au moyen de…" (method of preservation…)
– "traite au …" (treated with . . .) followed by the name of each post-harvest chemical used on the product.
– "enrobe de cires vegetales" (coated with vegetable waxes), or "agent d' enrobage . . ." (coating agent. . .) followed by the names in French of the waxes.
Consumer packages: Pre-packed fresh fruits and vegetables should indicate clearly the name and address of a distributor/importer/wholesaler and/or packer in the European Community.
Pre-packed fresh fruits and vegetables should indicate a manufacturing lot number listed on the packaging or on the commercial documents accompanying the product and should be preceded by the letter "L."
The label should be part of the packaging, either affixed to the packaging or printed on the packaging.
B. Licenses and quotas:
EU licensing/quota regulations, if any, apply. Please refer to the EU chapter for additional information.
C. Currency Issues:
None
D. Pest and plant disease restrictions:
Please refer to EU chapter for specific restrictions which apply to all EU member countries.
E. Other trade restrictions
Please refer to the EU chapter for information on solid wood packing material regulations.
VI. MARKETING REPRESENTATIVES FOR PACIFIC NORTHWEST TREE FRUIT INDUSTRY:
VII. OTHER RESOURCE LINKS:
Governmental:
VIII. ADDITIONAL COMMENTS
Special thanks to
FAS Field Office – France