Northwest Horticultural Council
Export Manual
BRAZIL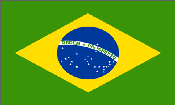 Capital: Brasilia
Population: 211,716,000
Currency: Real
Official Language(s): Portuguese
---
Please click on the above link for a list of chemical MRLs.
Pear MRLs in Top Markets – updated March 26, 2020
II. CHEMICALS AND ADDITIVE INFORMATION
A. Chemical residue standards:
Brazil follows the Codex Alimentarius Commission's regulations in establishing its maximum residue levels (MRLs).  If no national MRL has been established, it may defer to Codex values based on scientific or technical issues.  Therefore, all MRLs should be confirmed with that country's importers.
B. Monitoring chemical residues:
C. Restrictions on use of waxes:
III. ORGANIC FRUIT REGULATIONS
Shipments must be accompanied by a "certificate of organic quality."  Brazil accepts USDA organic certification.
Any imported product subjected to quarantine treatment not compatible with Brazilian organic production regulation will lose its organic status. For additional information on the organics set of rules, please access www.agricultura.gov.br/desenvolvimento-sustentavel/organicos (Best browser: Chrome – Right Click on website to translate to English)
IV. TARIFFS
Apple, pear and cherry imports are assessed a 10% tariff based on the CIF value.
Fruit imports from Mercosur member countries (Argentina, Paraguay, Uruguay, and Brazil) are allowed into Brazil duty-free.
V. NON-TARIFF BARRIERS
A. Labeling requirements:
Apples and Cherries:  None
Pears:  Each carton must be labeled – stickering is allowed – in Portuguese with the following:
Date of pack
Country of Origin
Name and address of both packer and exporter
Name, CNPJ/CPF and address of importer
Category or grade
Product name, e.g., "Pear"
Variety
Net metric weight
B. Licenses and quotas:
Apple and pear imports from countries other than Argentina, Paraguay and Uruguay are limited by a quota of 10,000 MT from August 1 through December 31. Nevertheless, import permits in excess of this quota are regularly issued by Brazilian officials.
C. Currency Issues:
None
D. Pest and plant disease restrictions:
Phytosanitary certificate (PC) is required.
Apples, pears, and cherries may only enter Brazil through the Port of Santos, Guarulhos International Airport in San Paulo; International Airport of Recife/Guararapes Gilberto Freyre, and Ports of Recife and Suape, located in Pernambuco State.
Plant pests and disease of concern to Brazil include:
Brevipalpus lewsisi (citrus flat mite), Conotrachelus nenuphar (plum curculio), Cydia pomonella (codling moth), Cydia (Grapholita) prunivora (lesser apple worm), Erwinia amylovora (fire blight), Gymnosporangium spp. (rusts), Phyllosticta solitaria (apple leaf blotch), Rhagoletis pomonella (apple maggot), Plum Pox Virus (PPV), and Tetranychus pacificus (Pacific spider mite).
For more information, contact the Northwest Horticultural Council or your local APHIS Cooperator.
E.  Solid Wood Packing Material (SWPM) Regulations:
Please refer to the SWPM section of the NHC's Technical Bulletins and Industry Advice.
F.  Other Requirements:
Brazil implemented new grade standards for pears in February of 2006.  U.S. Number 1 pears and higher grades should continue to qualify for export.  Washington 3rd Grade and C Grade pears will no longer qualify for export.  Changes to frost damage, sunburn, dehydration and other defects were also made.  Please work closely with your importer to ensure compliance.
VI. MARKETING REPRESENTATIVES FOR PACIFIC NORTHWEST TREE FRUIT INDUSTRY:
Pear Bureau Northwest/Northwest Cherry Growers/Washington State Fruit Commission:
Francesco Sicherle
Produce Marketing Comunicacao e Promocoes
Sao Paulo, BRAZIL
Voice/Fax:   +55 11 3085 6475
Cell:   +55 14 8124 9929
E-mail:  produce@psi.com.br
VII. OTHER RESOURCE LINKS:
Governmental:
VIII. ADDITIONAL COMMENTS
Special thanks to
FAS Field Office – Brazil