Northwest Horticultural Council
Export Manual
UNITED ARAB EMIRATES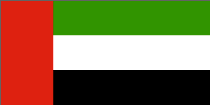 Capital: Abu Dhabi
Population: 9,915,803 (July 2022 est.)
Currency: 1 Dirham
Official Language(s): Arabic
---
Please click on the above link for a list of chemical MRLs.
II. CHEMICALS AND ADDITIVE INFORMATION
A. Chemical residue standards:
The United Arab Emirates defers to Codex.  When there is no established Codex MRL, EU MRLs may be applied.  When there is no established Codex or EU MRL, a default MRL of 0.01 ppm applies.
B. Monitoring chemical residues:
The United Arab Emirates Health Authorities upgraded their labs by importing new equipment for monitoring chemical residues and have started running tests more frequently.
C. Restrictions on use of waxes:
United Arab Emirates permits the use of beeswax, candelilla wax, carnauba wax, and shellac wax on fresh fruits as approved under Gulf Cooperation Council technical regulations 2500/2015 (E).
III. ORGANIC FRUIT REGULATIONS
Labeling Organic Food: UAE.S GSO CAC GL 32 :2008 "Guidelines for the production, processing, labeling and marketing of organically produced foods" stipulates a product claimed as organic must include an organic logo and be accompanied by a government competent authority certificate. The United States Department of Agriculture organic logo (USDA Organic) and certificate is accepted by UAE authorities. If a product is organic but not claimed on the package, no certificate or attestation is required. Additional information can be found through the following site:
IV. TARIFFS
None
V. NON-TARIFF BARRIERS
A. Labeling requirements:
Shipping cartons must state:
1.  Product and brand name
2.  Net weight
3.  Country of origin
4.  Packer's name and address
In addition, apple cartons must be labeled with:
1.  Variety name
2.  Class (grade)
3.  Size (count)
The UAE accepts English-only labels and does not enforce the Arabic-label requirement.  However, bilingual labels or Arabic stickers are recommended.
Production/expiry dates are not required for bulk cartons of fresh fruits and vegetables.
If product is prepackaged for direct sale to consumers additional labeling requirements apply.
B. Licenses and quotas:
None
C. Currency Issues:
None
D. Pest and plant disease restrictions:
A Phytosanitary Certificate is required.
E. Other trade restrictions:
A Country of Origin Certificate must accompany the shipment.
The UAE has adopted with minor modification the Codex Alimentarius Apple Grade Standard.
VI. MARKETING REPRESENTATIVES FOR PACIFIC NORTHWEST TREE FRUIT INDUSTRY:
Washington State Fruit Commission and Pear Bureau Northwest:
Simon Bakht
Arab Marketing & Finance Inc. (AMFI)
Beirut, LEBANON
Voice:   011-961-1-740378
Fax:      011-961-1-740393
E-mail:  amfime@cyberia.net.lb
VII. OTHER RESOURCE LINKS:
Governmental:
VIII. ADDITIONAL COMMENTS
Special thanks to
FAS Field Office – United Arab Emirates