Northwest Horticultural Council
Export Manual
HONG KONG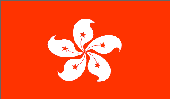 Capital: None
Population: 7,276,588 (July 2022 est.)
Currency: Hong Kong dollar
Official Language(s): Chinese (Cantonese) and English
---
Please click on the above link for a list of chemical MRLs.
II. CHEMICALS AND ADDITIVE INFORMATION
A. Chemical residue standards:
Hong Kong maintains a national MRL list.  Hong Kong does not apply a default MRL.
III. ORGANIC FRUIT REGULATIONS
Hong Kong Organic Center provides organic certification for local produce but does not have a law regulating organic products.  U.S. organic products can be sold in Hong Kong with the U.S. organic logo.
IV. TARIFFS
Hong Kong is a free port and does not impose tariffs on apples, cherries, pears or stone fruits.
V. NON-TARIFF BARRIERS
A. Labeling requirements:
None
B. Licenses and quotas:
None
C. Currency Issues:
None
D. Pest and plant disease restrictions:
None
E. Health Certificates:
None
VI. MARKETING REPRESENTATIVES FOR PACIFIC NORTHWEST TREE FRUIT INDUSTRY:
Northwest Cherry Growers/Washington State Fruit Commission/Washington Apple Commission:
Philander Fan
Marketing Plus
HONG KONG
Voice:   011 852-2554-1600
Fax:      011 852-3676-7960
E-mail:  pfmk@i-cable.com
Pear Bureau Northwest:
Louis Ng
Louis Ng & Associates Ltd.
HONG KONG
Voice:   011-852-2858-2230
Fax:      011-852-2559-5896
E-mail:  admin@Lnahk.com.hk
VII. OTHER RESOURCE LINKS:
Governmental:
VIII. ADDITIONAL COMMENTS
Hong Kong's official name is The Hong Kong Special Administrative Region (SAR) of the People's Republic of China.
Special thanks to
FAS Field Office – Hong Kong