Northwest Horticultural Council
Export Manual
HONG KONG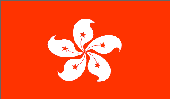 Capital: None
Population: 7,250,000
Currency: Hong Kong dollar
Official Language(s): Chinese (Cantonese) and English
---
Please click on the above link for a list of chemical MRLs.
Background: In the past, Hong Kong generally deferred to Codex maximum residue levels (MRLs).  However, in June 2012, Hong Kong enacted its first pesticide food regulation.  To allow exporters time to familiarize themselves with the new regulation, a two-year grace period was provided.  In August 2014 this grace period ended and the Pesticide Residues in Food Regulation entered into force.
Apple MRLs in Top Markets – updated March 26, 2020
Cherry MRLs in Top Markets – updated  March 12, 2020
Current Situation: The NHC has been in contact with pesticide regulatory officials at Hong Kong's Center for Food Safety (CFS) on this issue since 2011.  While CFS does not officially defer to Codex, it does use Codex as an advisory standard.  In general, the new MRL list (a modified positive list) is based on MRLs set by Codex and major trading partners (China, Thailand, and the United States).  While the majority of the changes are positive, including the addition of new chemicals and increases in MRLs, there are a few areas of concern.
For those concerned that there are a number of MRLs missing from among those active ingredients used by producers of a given commodity, CFS staff has indicated that if a residue was detected for a chemical without an MRL, the commodity would not be automatically rejected.  Rather, CFS would conduct a risk assessment to determine the acceptable residue level.  Any decisions that might affect trade would not be made until the risk assessment is complete.
II. CHEMICALS AND ADDITIVE INFORMATION
A. Chemical residue standards:
In most instances, Hong Kong defers to maximum residue levels established by the Codex Alimentarius Commission.  One exception:
Hong Kong    Codex
o-phenylphenol       pears             10 ppm     20 ppm
III. ORGANIC FRUIT REGULATIONS
Hong Kong Organic Center provides organic certification for local produce but does not have a law regulating organic products.  U.S. organic products can be sold in Hong Kong with the U.S. organic logo.
IV. TARIFFS
Hong Kong is a free port and does not impose tariffs on apples, cherries, pears or stone fruits.
V. NON-TARIFF BARRIERS
A. Labeling requirements:
None
B. Licenses and quotas:
None
C. Currency Issues:
None
D. Pest and plant disease restrictions:
None
E. Health Certificates:
None
VI. MARKETING REPRESENTATIVES FOR PACIFIC NORTHWEST TREE FRUIT INDUSTRY:
Northwest Cherry Growers/Washington State Fruit Commission/Washington Apple Commission:
Philander Fan
Marketing Plus
HONG KONG
Voice:   011 852-2554-1600
Fax:      011 852-3676-7960
E-mail:  pfmk@i-cable.com
Pear Bureau Northwest:
Louis Ng
Louis Ng & Associates Ltd.
HONG KONG
Voice:   011-852-2858-2230
Fax:      011-852-2559-5896
E-mail:  admin@Lnahk.com.hk
VII. OTHER RESOURCE LINKS:
Governmental:
VIII. ADDITIONAL COMMENTS
Hong Kong's official name is The Hong Kong Special Administrative Region (SAR) of the People's Republic of China.
Special thanks to
FAS Field Office – Hong Kong