Northwest Horticultural Council
Export Manual
VENEZUELA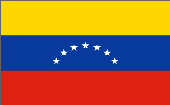 Capital: Caracas
Population: 29,789,730 (July 2022 est.)
Currency: Bolivar
Official Language(s): Spanish
---
Please click on the above link for a list of Codex chemical MRLs.
II. CHEMICALS AND ADDITIVE INFORMATION
A. Chemical residue standards:
The Venezuelan government has not established maximum residue levels (MRLs). However, the maximum residue limits established by the Codex Alimentarius Commission are generally accepted as the standard by domestic food companies and distributors of imported processed foods.
B. Monitoring chemical residues:
No government agency has been authorized to monitor pesticide residues in foodstuffs. If a product is suspected of being in violation of an MRL, SASA (Autonomous Agricultural Health Service) can recommend detention and analysis of the shipment.
C. Restrictions on use of waxes:
None
III. ORGANIC FRUIT REGULATIONS
No information
IV. TARIFFS
The ad valorem tariff on apples, pears, and cherries is 15%.
Imports of these fruits from Andean Pact countries (Bolivia, Colombia, Ecuador, Peru and Venezuela) are assessed no duty. Imports from Chile are assessed no duty under a bilateral free trade agreement between the two countries.
V. NON-TARIFF BARRIERS
A. Labeling requirements:
All labels must be in Spanish and include:
1.  Product name
2.  Brand name
3.  Net weight (Kilograms)
4.  Name and address of packer
5.  Name of importer
B. Licenses and quotas:
See section D. Pest and plant disease restrictions.
C. Currency Issues:
Venezuela has a fixed exchange rate system with foreign exchange sales to importers subject to control by a government commission.
Strict rules govern applications for foreign currency transactions.  In addition to being registered with the government, importers must obtain a "certificate of non-domestically produced food product" and the "certificate of not-sufficient domestically produced food product" in order to have access to foreign exchange.  Access to foreign exchange via the Foreign Exchange Administration Commission is limited.
D. Pest and plant disease restrictions:
A phytosanitary certificate and import permit are required.  Fruit is prohibited without an import permit.  Requirements for Venezuela will be listed on the import permit.
Venezuela stopped issuing import permits due to a protectionist policy designed to assist domestic fruit producers and conserve foreign exchange.  As a result, the market is effectively closed to fruit imports from the U.S. and other origins.  There is no indication when this policy might be changed and the market reopened.
Historical Information:
Apples and Pears:  Additional declaration (AD) that, "Based upon inspection, the fruit in this shipment is free of Cydia pomonella."
Non-Phytosanitary requirements (for exporters or their agents):   Fruit must be cold treated for Cydia pomonella (codling moth) and documentation provided to Venezuela showing the treatment.
Venezuela identifies the appropriate cold treatment as the fruit being held at 0.0 degrees Celsius (32 degrees Fahrenheit) for 12 days OR held at 0.5 degrees Celsius (33 degrees Fahrenheit) for 16 days. Venezuela will accept appropriate documentation provided by the exporter or their agent showing that the required treatment was conducted either at origin or in transit.
Treatment may be applied in transit. For fruit that is cold treated in transit, a thermograph record must be presented to Venezuelan authorities upon its arrival.
E. Solid Wood Packaging Material (SWPM) Regulations:
Please refer to the SWPM section of the NHC's Technical Bulletins and Industry Advice.
F.  Other
Imports are subject to a pre-inspection clearance procedure.  Inspections take place as the apples and/or pears are loaded into the shipping container in the U.S.
VI. MARKETING REPRESENTATIVES FOR PACIFIC NORTHWEST TREE FRUIT INDUSTRY:
Washington Apple Commission:
Raquel Benaim
RBB Trading LTD
Panama City, Panama
Voice:   011-507-836-5310
USA:  305 647 7823
E-mail:  rbenaim@gmail.com or raquelb@rbbtrading.com
Pear Bureau Northwest:
Luis Moreno
Grupo PM S.A. de C.V.
Cuernavaca, Mexico
Voice:   +52 777 316 7370
Fax:       +52 777 316 7369
E-mail:  grupopm@grupopm.com
VII. OTHER RESOURCE LINKS:
Governmental:
VIII. ADDITIONAL COMMENTS
Venezuela is updating its quality standards for fresh fruits.
Special thanks to
FAS Field Office – Venezuela