Northwest Horticultural Council
Export Manual
UNITED ARAB EMIRATES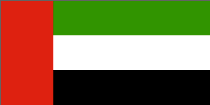 Capital: Abu Dhabi
Population: 9,701,000
Currency: 1 Dirham
Official Language(s): Arabic
---
Please click on the above link for a list of chemical MRLs.
Apple MRLs in Top Markets – updated September 12, 2019
Pear MRLs in Top Markets – updated July 28, 2019
II. CHEMICALS AND ADDITIVE INFORMATION
A. Chemical residue standards:
The United Arab Emirates defers to Codex.  When there is no established Codex MRL, EU MRLs may be applied.  When there is no established Codex or EU MRL, a default MRL of 0.01 ppm applies.
B. Monitoring chemical residues:
The United Arab Emirates Health Authorities upgraded their labs by importing new equipment for monitoring chemical residues and have started running tests more frequently.
C. Restrictions on use of waxes:
There are no restrictions on the use of waxes.
III. ORGANIC FRUIT REGULATIONS
No information.
IV. TARIFFS
None
V. NON-TARIFF BARRIERS
A. Labeling requirements:
Shipping cartons must state:
1.  Product and brand name
2.  Net weight
3.  Country of origin
4.  Packer's name and address
In addition, apple cartons must be labeled with:
1.  Variety name
2.  Class (grade)
3.  Size (count)
The UAE accepts English-only labels and does not enforce the Arabic-label requirement.  However, bilingual labels or Arabic stickers are recommended.
Production/expiry dates are not required for bulk cartons of fresh fruits and vegetables.
If product is prepackaged for direct sale to consumers additional labeling requirements apply.
B. Licenses and quotas:
None
C. Currency Issues:
None
D. Pest and plant disease restrictions:
None
E. Other trade restrictions:
A Country of Origin Certificate must accompany the shipment.
A Phytosanitary Certificate PPQ Form 577 must accompany the shipment.  This certificate should state that "The goods have been prepared and shipped under sanitary conditions and are fit for human consumption."
The UAE has adopted with minor modification the Codex Alimentarius Apple Grade Standard.  For a copy of this standard, click on this document link.
VI. MARKETING REPRESENTATIVES FOR PACIFIC NORTHWEST TREE FRUIT INDUSTRY:
Washington State Fruit Commission and Pear Bureau Northwest:
Simon Bakht
Arab Marketing & Finance Inc. (AMFI)
Beirut, LEBANON
Voice:   011-961-1-740378
Fax:      011-961-1-740393
E-mail:  amfime@cyberia.net.lb
VII. OTHER RESOURCE LINKS:
Governmental:
VIII. ADDITIONAL COMMENTS
Special thanks to
FAS Field Office – United Arab Emirates