Northwest Horticultural Council
Export Manual
SAUDI ARABIA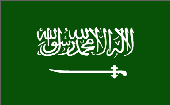 Capital: Riyadh
Population: 33,091,000
Currency: Saudi Riyal
Official Language(s): Arabic
---
Please click on the above link for a list of chemical MRLs.
Apple MRLs in Top Markets – updated September 12, 2019
Pear MRLs in Top Markets – updated July 28, 2019
II. CHEMICALS AND ADDITIVE INFORMATION
A. Chemical residue standards:
Saudi Arabia has developed its own maximum residue levels based mainly on CODEX Alimentarius Commission standards. Saudi Arabia defers to Gulf Cooperation Council (GCC), then to Codex, and lastly to the lower of the U.S. and EU MRLs. A default MRL of 0.01 ppm applies when no GCC, Codex, U.S. or EU MRL is established.
B. Monitoring chemical residues:
Chemical residues are monitored.
C. Restrictions on use of waxes:
None. (The Northwest Horticultural Council specifically asked the U.S. Embassy to comment on any religious restrictions which could be enforced. The response was "none.")
III. ORGANIC FRUIT REGULATIONS
No information
IV. TARIFFS
Saudi Arabia is a member of the Gulf Cooperation Countries (GCC) and adheres to the GCC Unified Customs Law. Apple, pear and cherry imports enter duty-free under GCC import rules.
V. NON-TARIFF BARRIERS
A. Labeling requirements:
Per Saudi standard no. 617/1990 (general requirements for fresh fruits and vegetables), the following labeling information must be written in Arabic language as well as a foreign language such as English.
1.  Type and variety
2.  Quality grade
3.  The name of exporter, his trademark and address.
4.  Gross (total) weight and net weight at packing in international units, or the number of fruits.
5.  Country of origin.
6.  Date of packing.
7.  The height of letters and numbers shall not be less than 2 cm.
B. Licenses and quotas:
None
C. Currency Issues:
None
D. Pest and plant disease restrictions:
A phytosanitary certificate is required. Imports must be free of Quadraspidiotus perniciosus (San Jose Scale).
VI. MARKETING REPRESENTATIVES FOR PACIFIC NORTHWEST TREE FRUIT INDUSTRY:
Washington Apple Commission
Simon Bakht
Arab Marketing & Finance Inc. (AMFI)
Beirut, LEBANON
Voice:   011-961-1-740378
Fax:      011-961-1-740393
E-mail:  amfime@cyberia.net.lb
Pear Bureau Northwest:
Masood Butt/Wasif Hussani
Arab Circle Marketing
Jeddah, SAUDI ARABIA
Voice:   011-966-2-631-8541
Fax:      011-966-2-631-8558
E-mail:  ac.marketing@arab.net.sa
VII. OTHER RESOURCE LINKS:
Governmental:
VIII. ADDITIONAL COMMENTS
Saudi Arabia is a member of the Gulf Cooperation Council (GCC) which includes five other countries in the Arabian Peninsula: United Arab Emirates, Kuwait, Bahrain, Oman, and Qatar. The GCC is working to create a common set of food standards and import requirements.
Special thanks to
FAS Field Office – Saudi Arabia