Northwest Horticultural Council
Export Manual
PERU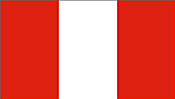 Capital: Lima
Population: 31,331,000
Currency: Nuevo Sol
Official Language(s): Spanish, Quechua
---
Please click on the above link for a list of Codex chemical MRLs.
II. CHEMICALS AND ADDITIVE INFORMATION
A. Chemical residue standards:
Peru defers to maximum residue levels established by the Codex Alimentarius Commission as a reference for acceptable MRLs.
B. Monitoring chemical residues:
The Food Law states that no chemical residue should be present in foods. However, Peru's Ministry of Agriculture lacks the resources to establish chemical residue standards so none are in effect.
C. Restrictions on use of waxes:
None
III. ORGANIC FRUIT REGULATIONS
No information
IV. TARIFFS
Apples:     zero duty
Pears:      zero duty
Cherries:  zero duty
V. NON-TARIFF BARRIERS
A. Labeling requirements:
None
B. Licenses and quotas:
None
C. Currency Issues:
None
D. Pest and plant disease restrictions:
An import permit (IP) and phytosanitary certificate (PC) are required for apples and pears. Fruit is prohibited without an import permit.  Requirements for Peru will be listed on the import permit.
E.  Solid Wood Packing Material (SWPM) Regulations:
Please refer to the SWPM section of the NHC's Technical Bulletins and Industry Advice.
VI. MARKETING REPRESENTATIVES FOR PACIFIC NORTHWEST TREE FRUIT INDUSTRY:
Pear Bureau Northwest:
Francesco Sicherle
Produce Marketing Comunicacao e Promocoes
Sao Paulo, Brazil
Voice/Fax:   +55 11 3085 6475
Cell:             +55 14 8124 9929
E-mail:  produce@psi.com.br
VII. OTHER RESOURCE LINKS:
Governmental:
VIII. ADDITIONAL COMMENTS
On  December 7, 2005, the U.S. and Peru concluded negotiations on a bilateral free trade agreement entitled the U.S.-Peru Trade Promotion Agreement (PTPA).
PTPA entered into force on February 1, 2009.
Special thanks to
FAS Field Office – Peru