Northwest Horticultural Council
Export Manual
MALAYSIA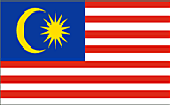 Capital: Kuala Lumpur
Population: 31,810,000
Currency: Ringgit
Official Language(s): Bahasa Malaysia
---
II. CHEMICALS AND ADDITIVE INFORMATION
A. Chemical residue standards:
The U.S. Agricultural Attaché in Malaysia has provided the following information regarding the absence of an MRL for many commonly used chemicals:
"Strictly speaking, if a chemical is not listed, it is NOT PERMITTED for use in Malaysia. However, in practice, the absence of a chemical from the approved list may only mean that the Ministry of Health has not yet established a local standard.
Generally, if the chemical does not appear on the approved list at all and there is an established Codex standard, this usually means that Malaysia has simply not established any MRL for the chemical. In this event, they usually will accept Codex or even U.S. standards upon request/review. . . The obvious exception would be if the U.S. standard is even more stringent (than the Codex standard)."
Note: In 2015, Malaysia proposed to formally amend the deferral path as follows:  if there is no established national MRL, Codex MRLs will be accepted.  If there is no Codex MRL, the MRL established by the Association of Southeast Asian Nations (ASEAN) will be accepted.  Malaysia applies a default MRL of 0.01 ppm when no National, Codex, or ASEAN MRL is established.  This updated deferral path has not yet been officially adopted.
B. Monitoring chemical residues:
The Ministry of Health is now conducting stringent checks on chemical residues on a number of food products, particularly fresh fruits and vegetables, entering the country. Under the Food Regulations 1985, there is a schedule (Regulation 41) listing permissible levels of pesticide residues on specified food items.
C. Restrictions on use of waxes:
None
III. ORGANIC FRUIT REGULATIONS
No information
IV. TARIFFS
The import duty on apples, pears, and cherries is 5% ad valorem. In addition to the duty, there is a 5% sales tax on fresh fruit imports.
V. NON-TARIFF BARRIERS
A. Labeling requirements:
Malaysia requires that each carton must be labeled (a sticker may be affixed to the carton) in the national language, Bahasa Malaysia, with the following information:
1. Name and business address of the importer, exporter, agent, producer or distributor, as the case may be, of the agricultural produce.
2. Common name (e.g., "apples" or "pears")
3. Grade.
4. Size.
5. Country of origin
6. Weight
The labeling information must be contained in an area not less than 11 centimeters by 7 centimeters in no smaller than 20 point lettering.
Malaysia's Federal Agricultural Marketing Authority (FAMA) accepts U.S. Global Trade Identification Number (G10) or equivalent label size (4-inch x 3 inch or 10cm x 8cm).
For U.S. exporters who are unable to print the name and address of the importer on the label prior to their shipments departing the United States, FAMA has provided them another option: FAMA will accept the importer name and address information through its online system.
FAMA has agreed to accept either U.S. Government or Washington state grade standards for apples, pears, and cherries. This information, such as U.S. Extra Fancy, U.S. Fancy, U.S. No. 1, must be indicated on the label but it does not need to be translated to native Bahasa Malaysia language.
Example of a label in native Bahasa Malaysia:
– Nama pengimport: Name of the Importer
– Alamat: Address of the Importer
– Nama Pengeksport: Name of the Exporter
– Alamat: Address of the Exporter
– Nama biasa: Common name (of fruit)
– Gred Standard: Standard grade (U.S. Extra Fancy)
– Saiz: Size (fruit count e.g., 113, 138)
– Negara asal: Country of Origin (Amerika Syarikat for USA)
– Berat: Weight
B. Licenses and quotas:
None
C. Currency Issues:
None
D. Pest and plant disease restrictions:
None
E. Solid Wood Packing Material Regulations:
Please refer to the SWPM section of the NHC's Technical Bulletins and Industry Advice.
VI. MARKETING REPRESENTATIVES FOR PACIFIC NORTHWEST TREE FRUIT INDUSTRY:
Washington Apple Commission:
Eddie Saw
Total Market Solutions
Selangor Darul Ehsan, Malaysia
Voice: 011 603 8070 7216
E-mail: eddie.saw@totalms.com.my
Northwest Cherry Growers/Washington State Fruit Commission: 
Phornthip Poolprasert
PT & Tatch Ltd.
Voice:   011-66-2-970-8207
Fax:      011-66-2-970-8208
E-mail:  pt@tatch.in.th
Pear Bureau Northwest:
Richard Lieu
Lieu Marketing Assoc Pte Ltd
SINGAPORE
Voice:   011-65-6515 6113
Fax:      011-65-6278 4372
E-mail:  lieumktg@singnet.com.sg
VII. OTHER RESOURCE LINKS:
Governmental:
VIII. ADDITIONAL COMMENTS
Special thanks to
FAS Field Office – Malaysia