Northwest Horticultural Council
Export Manual
COSTA RICA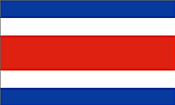 Capital: San Jose
Population: 4,930,000
Currency: Colon
Official Language(s): Spanish
---
Please click on the above link for a list of chemical MRLs.
II. CHEMICALS AND ADDITIVE INFORMATION
A. Chemical residue standards:
Costa Rica maintains a national MRL list, and defers to Codex in the absence of an MRL.  In those cases where no MRL is established by Codex, MRLs established by U.S. EPA or European Union will be applied.  If the values differ, the highest nominal value will be adopted.
By executive decree, Costa Rica now has banned endosulfan for most uses.  In August 2015, at least two apple shipments were rejected for the presence of low level residues of endosulfan.  This is an exception to their above-mentioned policy of deferring to Codex, the U.S., or the European Union.
B. Monitoring chemical residues:
Costa Rica actively monitors chemical residues on imported fruit. Shippers should pay close attention  to chemical maximum residue levels listed in Section I above.
C. Restrictions on use of waxes:
Costa Rica follows U.S. established regulations on the use of waxes.
III. ORGANIC FRUIT REGULATIONS
No information.
IV. TARIFFS
As agreed under the Dominican Republic-Central America-United States Free Trade Agreement, the tariff rate for U.S. apples, pears and cherries is zero.
In order for importers to obtain this preferential duty free rate a Certificate of Origin must be provided.  See section Chapter V, Section F for more information.
V. NON-TARIFF BARRIERS
A. Labeling requirements:
Labels should be in Spanish and should include the following: Name of product, country of origin, name and address of the importer, net weight, U.S. quality grade. Net weight should be expressed in the metric system.
B. Licenses and quotas:
None
C. Currency Issues:
Importers are no longer required to make prior deposits in Colones with the Central Bank. Importers can freely obtain foreign exchange at this time with no prior deposits.
D. Pest and plant disease restrictions:
An Import Permit (IP) and Phytosanitary Certificate (PC) are required.
Costa Rican plant health officials have a long history of rejecting shipments for the detection of plant pests even though they are not listed as a pest of quarantine concern in USDA's export database.  Work closely with your state inspection officials when certifying loads for export to Costa Rica to try to avoid rejections on arrival.
During the 2016/17 crop year, a number of apple and pear shipments have had to undergo fumigation with methyl bromide upon arrival in-country due to the detection of San Jose scale (Quadraspidiotus perniciosus / Diaspidiotus perniciosus).  San Jose scale is not listed as a pest of quarantine concern for all states for export to Costa Rica in the USDA export database.
Beginning in October 2009, Costa Rican plant quarantine officials have rejected a number of U.S. apple shipments due to the presence of grape mealybug (Pseudoccocus maritimus). Given the behavior and biology of this aphid-like insect, it would be likely that the pest could escape cursory detection in the stem bowl or calyx end.
In mid-January 2010 Costa Rican plant quarantine officials rejected a U.S. apple shipment due to the presence of codling moth (Cydia pomonella).  Codling moth is not listed as a pest of concern for Costa Rica in the USDA export certification database.
E.  Solid Wood Packing Material (SWPM) Regulations:
Please refer to the SWPM section of the NHC's Technical Bulletins and Industry Advice.
F.  Certificate of Origin
A Certificate of Origin must accompany any shipment in order to obtain the preferential duty free tariff provided under the DR- CAFTA.
There is no official Certification of Origin form.  However, a "suggested form" for imports under DR-CAFTA, including instructions on how to fill in the form may be found at Certificate of Origin.
Special attention should be paid to entering the correct "preferential tariff treatment criteria" under box 7 of the suggested form.  For fruit exported from the Pacific Northwest the correct entry is the capital letter A; which designates the import as "it is a good wholly obtained or produced entirely in the territory of one or more of the Parties."
VI. MARKETING REPRESENTATIVES FOR PACIFIC NORTHWEST TREE FRUIT INDUSTRY:
Pear Bureau Northwest:
Luis Moreno
Grupo PM S.A. de C.V.
Morelos, MEXICO
Voice:   011 52 777 3167370
Fax:      011 52 777 3167369
E-mail:  grupopm@grupopm.com
Washington Apple Commission:
Juan Carlos Moriera
Jurica, Queretaro, Mexico
Voice/FAX:  011 52 442 218 1097
E-mail:  jcmets123@gmail.com
VII. OTHER RESOURCE LINKS:
Governmental:
VIII. ADDITIONAL COMMENTS
The Dominican Republic-Central America-United States Free Trade Agreement Implementation Act was signed by President Bush on August 2, 2005.  Implementation of the FTA with Costa Rica began on January 1, 2009.
The bulk of apples imported from the U.S. come into the country in November and December. Demand is highest during the Christmas season. Lower quality apples are also being imported from Guatemala. Increasing domestic production of the Anna variety is substituting for imports from Guatemala to some extent. However, local importers believe that these domestic apples will have little impact on the imports from the U.S.
Special thanks to
FAS Field Office – Costa Rica