Northwest Horticultural Council
Export Manual
COLOMBIA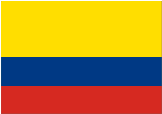 Capital: Bogota
Population: 48,169,000
Currency: Colombian Peso
Official Language(s): Spanish
---
Please click on the above link for a list of Codex chemical MRLs.
Pear MRLs in Top Markets – updated July 28, 2019
II. CHEMICALS AND ADDITIVE INFORMATION
A. Chemical residue standards:
Colombia defers to maximum residue levels established by the Codex Alimentarius Commission.
B. Monitoring chemical residues:
Colombia does not actively monitor chemical residues on imported fruit.
C. Restrictions on use of waxes:
This aspect has not been considered in the local regulations. The pattern usually is to accept U.S. standards.
III. ORGANIC FRUIT REGULATIONS
No information.
IV. TARIFFS
Apple, pear, and cherry imports from the United States are assessed no tariff.
V. NON-TARIFF BARRIERS
A. Labeling requirements:
Labels on packages or cartons must be in Spanish and state the following information:
1.  Product name e.g., apples.
2.  Net content.
3.  Name and address of packer or importer
4.  Country of Origin.
5.  Lot identification.
6.  Expiration date or minimum useful life.
7.  Conditions for product storage.
Spanish language stickers may be applied by the importer.
B. Licenses and quotas:
None
C. Currency Issues:
None
D. Pest and plant disease restrictions:
A phytosanitary certificate (PC) and import permit (IP) are required.  A PC will not be issued unless an IP is presented and the IP issuance date must be prior to the PC date.  All fruit must be certified in accordance with the work plan.  Fruit must be free from certain tropical fruit flies which do not occur in the states of Idaho, Oregon or Washington, Rhagoletis spp. including apple maggot (Rhagoletis pomonella), Cydia spp. (fruit moths), including Codling moth (Cydia pomonella), and San Jose scale (Quadraspidiosus perniciosus).  For Cydia pomonella and Quadraspidiotus perniciosus intensified inspection is required with at least 2% of all boxes in each lot inspected for pests; 1% of the fruit in those boxes must be cut and inspected for possible infestation.
Fresh fruit must have one of the following additional declarations:  "The shipment originated in an area free from Maconellicoccus hirsutus (Green), pink hibiscus mealybug." OR, "The shipment was inspected and found free of Maconellicoccus hirsutus (Green), pink hibiscus mealybug."
Since 1993 codling moth has been detected in apple shipments to Colombia on a number of occasions.  According to USDA representatives in that country, when detection of codling moth occurs the shipments must be re-exported as Colombian plant quarantine officials are not authorized to have the product fumigated and released for consumption.  Shippers should take all reasonable precautions to avoid sending codling moth infested fruit to Colombia.
E.  Solid Wood Packing Material (SWPM) Regulations:
Please refer to the SWPM section of the NHC's Technical Bulletins and Industry Advice.
VI. MARKETING REPRESENTATIVES FOR PACIFIC NORTHWEST TREE FRUIT INDUSTRY:
Washington Apple Commission:
Raquel Benaim
RBB Trading LTD
Panama City, Panama
Voice:   011-507-836-5310
USA:  305 647 7823
E-mail:  rbenaim@gmail.com or raquelb@rbbtrading.com
Pear Bureau Northwest:
Luis Moreno
Grupo PM S.A. de C.V.
Cuernavaca, Mexico
Voice:   +52 777 316 7370
Fax:       +52 777 316 7369
E-mail:  grupopm@grupopm.com
VII. OTHER RESOURCE LINKS:
Governmental:
VIII. ADDITIONAL COMMENTS
The United States-Columbia Trade Promotion Agreement entered into force on May 15, 2012.
Special thanks to
FAS Field Office – Colombia