Northwest Horticultural Council
Export Manual
THAILAND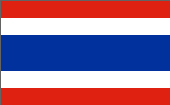 Capital: Bangkok
Population: 68,414,000
Currency: Baht
Official Language(s): Thai
---
Please click on the above link for a list of chemical MRLs.
Apple MRLs in Top Markets – updated August 18, 2017
II. CHEMICALS AND ADDITIVE INFORMATION
A. Chemical residue standards:
Thailand has a limited MRL standard for apples, pears and/or cherries.  If a chemical does not have an established MRL, and is not included in the hazardous substance Category 4 list, Thailand will accept Codex's MRLs.  Azinphos-methyl (AZM) and endosulfan are currently included on the Category 4 list, and therefore a zero tolerance level is maintained.
B. Monitoring chemical residues:
Thai FDA officials conduct regular screening of incoming fresh fruit shipments for pesticide residues.
C. Restrictions on use of waxes:
None
III. ORGANIC FRUIT REGULATIONS
No information
IV. TARIFFS
Apples: 10% ad valorem
Pears: 30% ad valorem
Cherries: 40% ad valorem
As a result of the ASEAN-China Free Trade Area, Thailand and China have reduced their respective import duties on fresh fruits and vegetables to zero.
Thailand and Australia negotiated a free trade agreement (FTA) in October 2003.  Under this FTA, Thailand provided Australian apples and pears duty-free access.
V. NON-TARIFF BARRIERS
A. Labeling requirements:
Name of company must be on label.
B. Licenses and quotas:
None
C. Currency Issues:
None
D. Pest and plant disease restrictions:
A Phytosanitary Certificate is required.
E.  Other Requirements:
A Certificate of Origin issued by a relevant authority is required for shipments to enter Thailand.
VI. MARKETING REPRESENTATIVES FOR PACIFIC NORTHWEST TREE FRUIT INDUSTRY:
Washington Apple Commission:
Theeravee Ungkuvorakul
Success Marketing Co., Ltd.
Bangkok, THAILAND
Voice:  011-662-656-7921
Fax:     011-662-656-7931
E-mail:  theeravee@successmarketing.co.th
Northwest Cherry Growers/Washington State Fruit Commission:
Phornthip Poolprasert
PT & Tatch Ltd.
Bangkok, THAILAND
Voice:  011-66-2-521-2170/970-7572
Fax:     011-66-2-970-8208
E-mail:  pt@tatch.in.th
VII. OTHER RESOURCE LINKS:
Governmental:
VIII. ADDITIONAL COMMENTS
Special thanks to
FAS Field Office – Thailand