Northwest Horticultural Council
Export Manual
UKRAINE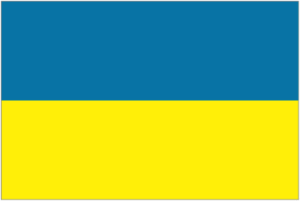 Capital: Kiev
Population: 43,528,136 (July 2022 est.)
Currency: Hryvnya
Official Language(s): Ukrainian, Russian, Polish, Tatar
---
I. CHEMICAL MAXIMUM RESIDUE LEVELS (MRLs)
The NHC is not tracking MRLs for this market.  Please work with importers to verify appropriate requirements.
II. CHEMICALS AND ADDITIVE INFORMATION
A. Chemical residue standards:
Ukraine defers to maximum residue levels established by the Codex Alimentarius Commission on chemicals for which no national MRL exists.
B. Monitoring chemical residues:
Ukraine actively tests for chemical residues. A certificate is issued following testing at the point of import. Testing is done by the Institute of Ecohygiene and Toxicology.
C. Restrictions on use of waxes:
None
III. ORGANIC FRUIT REGULATIONS
All producers and handlers/processors wishing to label their products as organic must have their production and handling systems certified by USDA accredited certifiers. For more information on AMS certification programs, please visit this page, USDA AMS National Organic Program.  USDA's Organic Export Certificate Form is not officially recognized in Ukraine and would not replace any other certificate required for import.
IV. TARIFFS
| | | |
| --- | --- | --- |
| Apples | From December 1 to March 31 | Duty-free |
| | From April 1 to November 30 | 10% |
| Pears: | From December 1 to Mach 31 | 5% |
| | From April 1 to November 30 | 10% |
| Cherries: | | 5% |
V. NON-TARIFF BARRIERS
A. Labeling requirements:
Country of origin
Packing date
Name of fruit
Weight
Size
Grade
Name and address of packer
B. Licenses and quotas:
None
C. Currency Issues:
On October 11, 2008, the Ukrainian government adopted Decree #319 in an attempt to stabilize its banking system.  The decree bans foreign currency purchases for imports without proof that the product was delivered to the Ukraine.  This means that the exporter will have to transfer ownership to the importer and allow the shipment to clear customs before receiving payment in a currency other than the Ukrainian Hryvnya.
Contact the U.S. Department of Agriculture Foreign Service at the U.S. Embassy in Kyiv for the latest information.
D. Pest and plant disease restrictions:
Phytosanitary certificate is required.
Pears and cherries must be free of Grapholita molesta (Oriental fruit moth).  Apples must be free from Grapholita molesta (Oriental fruit moth) and Rhagoletis pomonella (apple maggot).
Apple and Prunus spp. (includes cherries): Fumigation is required at southern points of entry when imported from April 1 through September 30.
VI. OTHER RESOURCE LINKS:
Governmental:
VII. ADDITIONAL COMMENTS
Ukraine has a very complex system of regulations for importing food. Mandatory certification for quality and safety standards is conducted.
Special thanks to
FAS Field Office