Northwest Horticultural Council
Export Manual
TURKEY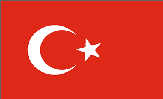 Capital: Ankara
Population: 83,047,706 (July 2022 est.)
Currency: Turkish lira
Official Language(s): Turkish
---
I. CHEMICAL MAXIMUM RESIDUE LEVELS (MRLs)
The NHC is not tracking MRLs for this market.  Please work with importers to verify appropriate requirements.
II. CHEMICALS AND ADDITIVE INFORMATION
A. Chemical residue standards:
The Turkish Food Codex lists the maximum residue levels allowed on food products. Turkey is currently trying to harmonize all of its food import regulations to those of the European Union.
B. Monitoring chemical residues:
Turkish Ministry of Agriculture officials sample imported products to ensure compliance with Turkish MRLs.
C. Restrictions on use of waxes:
Unknown
III. ORGANIC FRUIT REGULATIONS
Imported organic products are controlled and inspected according to Turkish organic legislation and re-certified as organic if the products comply.
IV. TARIFFS
Apples 67%
Pears 67%
V. NON-TARIFF BARRIERS
A. Labeling requirements:
Labels are required on the exterior of bulk packaging for fruit that is sold in bins or open stands.  The following information is required on the label:
1.  Product name and brand
2.  Name and address of producing company
3.  Name and address of importing company
4.  Production batch number and date
5.  Country of origin
6.  Net weight
7.  Ministry of Agriculture import license number and date
B. Licenses and quotas:
None
C. Currency Issues:
None
D. Pest and plant disease restrictions:
Turkey requires a phytosanitary certificate (PC) for apple, pear and cherry imports.
E. Solid Wood Packaging Material (SWPM) Regulations:
Please refer to the SWPM section of the NHC's Technical Bulletins and Industry Advice.
VI. OTHER RESOURCE LINKS:
Governmental:
VII. ADDITIONAL COMMENTS
Special thanks to
FAS Field Office