Northwest Horticultural Council
Export Manual
TUNISIA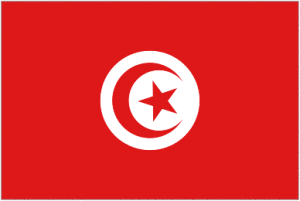 Capital: Tunis
Population: 11,896,972 (July 2022 est.)
Currency: Dinar
Official Language(s): Arabic
---
I. CHEMICAL MAXIMUM RESIDUE LEVELS (MRLs)
The NHC is not tracking MRLs for this market.  Please work with importers to verify appropriate requirements.
II. CHEMICALS AND ADDITIVE INFORMATION
A. Chemical residue standards:
Tunisia maintains a National MRL list, based on Codex MRLs.  However, this list has not been updated in recent years.  Tunisia likely accepts the Codex MRLs (which are listed above), but all MRLs should be confirmed with that country's importers.
B. Monitoring chemical residues:
Tunisia does not systematically monitor for chemical residues.
C. Restrictions on use of waxes:
None
III. ORGANIC FRUIT REGULATIONS
None
IV. TARIFFS
Apples: 150% ad valorem
V. NON-TARIFF BARRIERS
A. Labeling requirements:
B. Licenses and quotas:
None
C. Currency Issues:
There are restrictions on capital outflows and the Dinar. However, the Dinar is convertible for trade purposes.
D. Pest and plant disease restrictions:
A phytosanitary certificate is required.
Apple imports from the United States are prohibited due to alleged concerns regarding fire blight (Erwinia amylovora).
E.  Other Requirements:
Imported apples must meet Tunisian apple grade and quality standards as established by the Tunisian standards-setting body INNORPI (Institut-National, de Normalisation et de Propriété Industrielle).  For example, apples must be a minimum of 65 mm in diameter.
VI. MARKETING REPRESENTATIVES FOR PACIFIC NORTHWEST TREE FRUIT INDUSTRY:
Washington Apple Commission:
Simon Bakht
Beirut, Lebanon
Voice: 011-961-1-740378
E-mail: amfime@cyberia.net.lb
VII. OTHER RESOURCE LINKS:
Governmental:
VIII. ADDITIONAL COMMENTS
Special thanks to
FAS Field Office