Northwest Horticultural Council
Export Manual
MOROCCO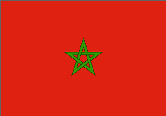 Capital: Rabat
Population: 36,738,229 (July 2022 est.)
Currency: Moroccan dirhams
Official Language(s): Arabic, French often the language of business and government
---
Please click on the above link for a list of chemical MRLs.
II. CHEMICALS AND ADDITIVE INFORMATION
A. Chemical residue standards:
Morocco maintains a national MRL list.  Morocco defers to Codex when a national MRL is not established.  Morocco maintains a default MRL of 0.01 ppm if no national or Codex MRL.
B. Monitoring chemical residues:
Morocco does not systematically monitor for chemical residues on food products. However, Ministry of Agriculture agents are authorized to request that laboratory analysis be conducted.
C. Restrictions on use of waxes:
No information
III. TARIFFS
Current tariff:
Apples       0%
Pears          0%
Cherries     0%
IV. NON-TARIFF BARRIERS
A. Labeling requirements:
Moroccan law requires the use of Arabic language on food labels.  Stick-on labels are accepted and may be applied to the carton by the importer once authorized to do so by the Office National de la Sécurité Sanitaire des Produits Alimentaires.
The required markings for shipping cartons are:
1. Product name and variety
2. Net quantity in kilograms
3. Production date (packing date) – date format should be (dd/mm/yy)
4. Name and address of importer
5. Country of origin
6. Lot Number
B. Seasonal restrictions:
No information
C. Licenses and quotas:
The duty-free tariff rate quota for apples, negotiated under the U.S.- Morocco Free Trade Agreement, has been eliminated. All imports of U.S. apples are now allowed entry to Morocco duty-free.
There are no known requirements for shippers to obtain a license in order to export fruit to Morocco.
D. Currency Issues:
Foreign currencies are readily available to importers upon presentation of import documents.  Although the use of letters of credit is common, many importers prefer to pay against documents after a few transactions.  Advance payments are prohibited by current exchange regulations.
E. Pest and plant disease restrictions:
A phytosanitary certificate is required and must be issued no more than 14 days prior to shipping.
– Apples
Fruit must be free from a number of pests and diseases of concern, including Fire blight Erwinia amylovra), Brown rot (Monilinia fructicola), Apple blotch (Phyllosticta sollitaria) and Apple maggot (Rhagoletis pomonella).
A cold treatment is required for apple maggot if fruit comes from areas where this pest is known to occur.  Details of the treatment must be listed on the PC.
40 days at 0 degrees C
or
90 days at 3.3 degrees C
From areas where apple maggot is not known to occur there must be an Additional Declaration (AD) on the PC that states, "The fruit was grown in a production area of the USA in which, on the basis of the official annual surveys, the apple maggot does not occur."
V. OTHER RESOURCE LINKS:
Governmental:
VI. ADDITIONAL COMMENTS
On August 17, 2004, President Bush signed the U.S.-Morocco Free Trade Agreement Implementation Act. The FTA between the U.S. and Morocco entered into force on January 1, 2006.