Northwest Horticultural Council
Export Manual
IRAN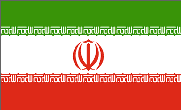 Capital: Tehran
Population: 86,758,304 (July 2022 est.)
Currency: Iranian rials
Official Language(s): Farsi (Persian), Turkic languages, Kurdishr
---
On August 19, 1997, President Clinton signed Executive Order 13059 stating that virtually all trade and investment activities with Iran by U.S persons are prohibited.
The U.S. government may allow licensed exports of agricultural commodities and products to Iran. Licenses are issued on a case by case basis and with "appropriate safeguards" by the U.S. Department of the Treasury, Office of Foreign Assets Control (OFAC). Information regarding the export of product to Iran including licensing requirements, financing, credit, government funding and brokering, may be obtained from the OFAC Web site.
Additional information regarding U.S./Iranian relations may be obtained by visiting the American Iranian Council's Web site. 
I. CHEMICAL MAXIMUM RESIDUE LEVELS (MRLs)
MRL requirements for Iran are unavailable.  Please work with importers to verify appropriate requirements.
II. CHEMICALS AND ADDITIVE INFORMATION
A. Chemical residue standards:
B. Monitoring chemical residues:
C. Restrictions on use of waxes:
III. ORGANIC FRUIT REGULATIONS
IV. TARIFFS
V. NON-TARIFF BARRIERS
A. Labeling requirements:
B. Licenses and quotas:
Process for obtaining Approval to Export to Iran
The only exports that are allowed to Iran are: medicine, medical devices, and agricultural products; however, a general license from the Department of Treasury is required prior to export.  For additional information, contact Mark Powers, President, at 509-453-3193.
C. Currency Issues:
D. Pest and plant disease restrictions:
USDA/APHIS requires that exporters provide an import permit in order to obtain a phytosanitary certificate to export fruit to Iran.
VI. OTHER RESOURCE LINKS:
Governmental:
VII. ADDITIONAL COMMENTS