Northwest Horticultural Council
Export Manual
ALGERIA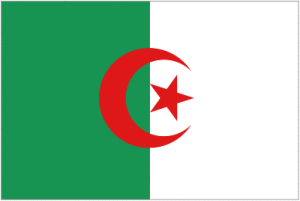 Capital:  Algiers
Population: 44,178,884 (July 2022 est.)
Currency:  Algerian dinar
Official Language(s):  Arabic, Berber
I. CHEMICAL MAXIMUM RESIDUE LEVELS (MRLs)
The NHC is not tracking MRLs for this market.  Please work with importers to verify appropriate requirements.
II. CHEMICALS AND ADDITIVE INFORMATION
A. Chemical residue standards:
Algeria references maximum residue level established by the European Union and applies a default value of 0.01 ppm.
B. Monitoring chemical residues:
Algeria does not actively monitor chemical residue levels.
C. Restrictions on use of waxes:
None
III. ORGANIC FRUIT REGULATIONS
None
IV. TARIFFS
Apples     30%
Pears       30%
Cherries  30%
V. NON-TARIFF BARRIERS
A. Labeling requirements:
Cartons should be labeled with the following:
Name and address of packer
Name and address of importer
Net weight
Country of origin
Lot identification
Packing date
B. Licenses and quotas:
None
C. Currency Issues:
None
D. Pest and plant disease restrictions:
A Phytosanitary Certificate is required. Plant products must be imported through Alger, Bone, Bougie, Monstagnem, Oran, or Phillipperville.
VI. MARKETING REPRESENTATIVES FOR PACIFIC NORTHWEST TREE FRUIT INDUSTRY:
Washington Apple Commission:
Simon Bakht
Beirut, Lebanon
Voice: 011-961-1-740378
E-mail: amfime@cyberia.net.lb
VII. OTHER RESOURCE LINKS:
Governmental:
VIII. ADDITIONAL COMMENTS
Special thanks to
FAS Field Office